Marto Julius Caesar Swords
Marto swords for sale are crafted by world renowned artisans in Toledo, Spain. Since the Roman era, Toledo has a vast tradition of generating high quality swords. Toledo Steel was made famous for its high quality alloy and during the 20th century, many military officer, cavalry and NCO swords were made in the city. Today, Marto continues to follow many of the traditional sword-making processes. Buy these popular Marto collectibles offered for sale in numerous historical and religious designs.
Custom Engraving Services Available - Up To 60 Characters for Only $25
Customize For Ceremonies, Awards, Gifts and Celebrations - Add Services at Checkout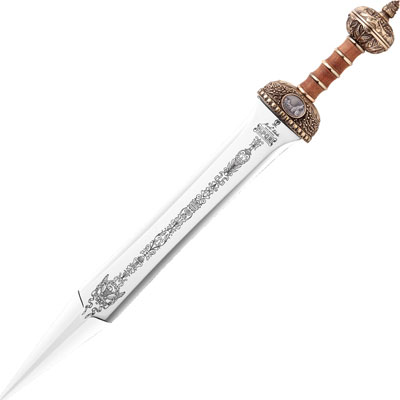 Marto Swords:
Julius Caesar Swords
$289.99


Marto Julius Caesar Swords for sale are beautifully crafted Roman Gladius. Made in Spain by Marto, these swords feature a Mainz Gladius design. They measure 28 inches in all and have an unsharpened, AISI 440-tempered stainless steel blade. The mirror polished blade features ornamental black colored etchings. SPQR is imprinted upon the blade. This inscription is an abbreviation for Senatus Populusque Romanus, which refers to the Senate and People of Rome, a symbol of Roman authority and the rule of law during the time of Julius Caesar. The wooden finger-grooved handle features antiqued bronze spacers. The guard, rounded pommel and all of the fittings are manufactured of antique bronze-plated cast metal. The popular Marto Julius Caesar Swords have inlaid medallions and ornate carvings of a Roman chariot. This historic and intricately detailed sword does not include a scabbard as its beauty makes it better suited for display than use. Buy the Marto Julius Caesar Sword, a truly exquisite collectible that features genuine Roman details and beautiful Spanish construction for $289.99.