Marto Richard the Lionheart Shields
Marto swords for sale are crafted by world renowned artisans in Toledo, Spain. Since the Roman era, Toledo has a vast tradition of generating high quality swords. Toledo Steel was made famous for its high quality alloy and during the 20th century, many military officer, cavalry and NCO swords were made in the city. Today, Marto continues to follow many of the traditional sword-making processes. Buy these popular Marto collectibles offered for sale in numerous historical and religious designs.
Custom Engraving Services Available - Up To 60 Characters for Only $25
Customize For Ceremonies, Awards, Gifts and Celebrations - Add Services at Checkout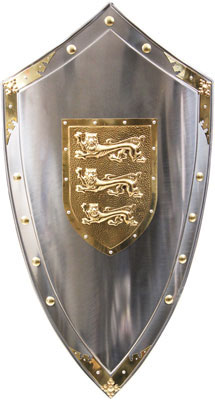 Marto Shields:
Richard the Lionheart Shields
$369.99


Marto Richard the Lionheart Shield for sale is made to honor the legendary King of England. These triangular shaped, or kite shaped medieval shields are crafted of solid heavy gauge steel that has been double reinforced with triple reinforced corners. These Lionheart Shields measure 35 by 17 inches in all. Made in Spain by world renowned artisans Marto, these popular shields feature a gold-plated metal sheet in the center with the coat-of-arms of Richard the Lionheart, the King of England embossed upon it. The Richard the Lionheart coat-of-arms features three guardian lions passant. The edges of the shield have been accented with polished brass and heavy rivets. In order to display this beautiful collectible, a metal handing chain is attached on the back. The back of the shield also features an adjustable sword mount which can be used to hang most types of swords behind it. These beautiful shields pair well as a set with the Marto Richard the Lionheart Swords for a royal medieval display. Buy these handsome medieval Richard the Lionheart Shields for $369.99.